I was first introduced to Glenn Reynolds through his blog Instapundit. If you've ever seen the Instapundit stream, then you know Glenn's posts are like the tide coming in—full and constant waves, arriving all-day long.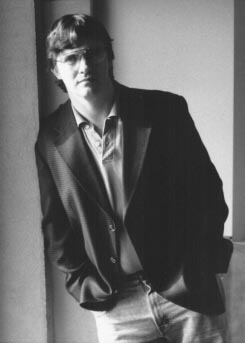 S.P.: O Blogfather! You were among the very first to really make blogging work. What was your original impetus for jumping into this field? Are you ever surprised at how far it has carried you?
G.R.: Well, I teach Internet Law, and because it's a fast-changing field I try to do hands-on stuff so that I'm teaching from firsthand knowledge, not just out of a casebook.  (Before InstaPundit I had some music sites for various bands I performed in / recorded / produced and a chain of Internet "radio stations" via MP3.com). I was also a regular reader of the blogs that were around then, back when they were still called "me-zines"—Mickey Kaus, Virginia Postrel, Caterina Fake, Andrew Sullivan, etc. So when I ran across the original Blogger platform, then being run by Ev Williams on a shoestring, it made it easy enough I thought I'd give it a try. I figured I knew enough people to have a high-quality academic/journalist readership of two or three hundred, which back then was quite respectable. In the past year, it turns out I had over 152 million pageviews. I'm not sure how many actual readers that represents, but it's certainly well into the six figures. So, yeah, I'm surprised. What's funny is that, for me, the experience hasn't changed that much. If you're a musician, there's a big difference between performing in tiny clubs vs. performing in huge stadiums. But as a blogger, it's always just me and my computer. Only the massive email volume is different . . .
S.P.: Do you consider yourself a writer? A pundit? An entertainer? How exactly would you describe your "unique ability"—meaning, what you bring to the table that nobody else does? Was this planned or did it just evolve?
G.R.: What I consider myself depends on what I'm doing. When I'm writing columns, like for the Wall Street Journal, Popular Mechanics, or the Washington Examiner, I'm mostly a pundit, though in different flavors depending on which one. When I write books, law review articles, etc., I feel more like a writer. As a blogger, I think my real strength is as an editor, and one who understands what interests a techy-political audience that's usually taking a couple of minutes procrastinating at work.
S.P.: When it comes to generating ideas, what's your process? Solitary? Collaborative? Is it fun, is it grueling? How, exactly, do you work?
G.R.: That depends, too. With the blog, it's really kind of collaborative—I get thousands of emails daily now and more than half of my blog posts come out of those, so it's a matter of picking which. Column ideas are usually my own, though sometimes they're based on suggestions from editors. Generally speaking, it's fun. When I'm writing to fill a slot—say, a solicited piece on a topic that I'm not as interested in as I thought I would be—it can feel like work. That's when knowing how to just put your head down and get it done anyway becomes a valuable skill.
S.P.: You've crafted a career that started at one level and has grown and evolved exponentially over time. PJTV, for example, has gone from a germ of an idea to a real force. What do you do when you hit plateaus? How do you keep advancing? Were there any moments when you got really stuck?
G.R.: No, I never had a career path planned so there was no real possibility of getting "stuck." Remember, I started as a tenured full professor of law—a position that's as close to medieval minor nobility as one can get today. So my ambitions were few. I've just done things that I found interesting and fun, and it's generally paid off. If I've been "advancing," it's because I didn't spend a lot of time trying to "advance."
S.P.: As you can see, Glenn, I'm very interested in the evolution of a career—how a person re-invents himself over time and avoids dead ends or burn-outs. Has the evolution of Instapundit been planned or was a lot of it fortuitous? What advice would you give individuals  who want to make real careers for themselves that last over time?
G.R.: As I suggest above, mostly fortuitous. In my early days—up through college and law school, anyway—I did focus on acquiring skills, mostly in speaking and writing, that would lead to this kind of career. But I've always tried to just follow my interests. A partner at my old law firm once said, "If you're working hard to get ahead, you're in the wrong job." He didn't mean that you shouldn't work hard—he meant that if you were in the right job, it wouldn't feel like hard work, and you wouldn't be doing it just to get ahead.
S.P.: Do you have a philosophy about creativity? Do you see the source as ultimately mysterious, unknowable? Or is your point of view more workmanlike? Where, on the deepest level, do you think ideas come from?
G.R.: When I was younger, I thought of creativity as more mysterious, but as I've gotten older, I think it's more workmanlike. I think the "flash of genius" idea is very appealing, not least because it short-circuits a lot of hard work, but in practice, hard work is something you can't often short circuit. But if you're working on something that interests you, it seldom really feels like work. For me, ideas come from being exposed to a lot of different facts and opinions; it's a natural process.
S.P.: One stumbling block that seems to exist for all creatives—whether Wall Street execs or writers—is time management. You seem to post hundreds of entries a day to your blog. How do you make this work? How do you find time to do all you do—and do it well?
G.R.: I schedule the big, important things—teaching class, spending time with my family, working on major projects—and then just slip the smaller things into the interstices that are left behind.  (Blogging is ideally suited for this approach). I also don't watch much TV, which opens up a LOT of time.
More About Glenn Reynolds
Glenn Reynolds is also a law professor at the University of Tennessee. In addition to writing law review articles and opeds, he is a contributing editor at Popular Mechanics, a columnist at The Washington Examiner, and the author of An Army of Davids : How Markets and Technology Empower Ordinary People to Beat Big Media, Big Government, and Other Goliaths and The Appearance of Impropriety: How the Ethics Wars Have Undermined American Government, Business and Society, coauthored with Peter W. Morgan. He has also written for the Environmental Law Reporter, The Atlantic Monthly, URB, The Wall Street Journal, Forbes, The New York Times, and numerous other publications. And— Glenn produces, writes for, or performs with a number of bands, including Mobius Dick, The Nebraska Guitar Militia, and the Defenders of the Faith, and co-owns a small record company, called WonderDog Records. The New York Times article about him is a few years old, but is a great read and will give you a little more information about someone whose creative "on switch" never seems to turn off.
106 Comments
Patronu aradığında sürekli hasta olduğunu söyleyerek iş yerine yalan söylüyor
porno hikaye
Patronu artık bu kadarının gerçek olamayacağını ve rapor görmek istediğini dile getirip telefonu kapatıyor
türbanlı
Olgun kadın hemen bilgisayarının başına geçip özel bir doktor buluyor ve onu arayarak evine davet ediyor
porno
Muayene için eve gelen doktor olgun kadını muayene ediyor ve hiç bir sıkıntı olmadığını söylüyor
brazzers porno
Sarışın ablamız ise iş yerine rapor götürmesi gerektiğini bu yüzden rapor yazmasını istiyor
brazzers porno
fakat doktor bunun pek mümkün olmadığını dile getiriyor
sex hikayeleri
Daha sonra evli olan bu kahpe doktora iş atarak ona yavşıyor ve istediğini alana kadar durmuyor
Porno İzle
Karılarını takas etmek isteyen elemanlar hep birlikte evde buluşuyor
türkçe porno
Güzel vakit geçirdikten sonra kızlara isteklerini iletiyorlar ve hatunlarda kocalarının bu isteklerini kabul ediyorlar
seks hikayeleri
Hemen ellerine telefonları alan elemanlar karılarına video eşliğinde sakso çektiriyorlar
porno izle
Hiç beklemeden sikişe geçen elemanlar hatunları değiştire değiştire sikmeye başlıyorlar.